CrossFit Gulf Coast
4463 Ashton Rd., Unit-C
Sarasota, FL 34232
For a map to this location, click here

Our Mission:
To relentlessly train for the extreme sport of radical fitness.
Anything less is unacceptable.




Contact Frank @ 941-228-8341 or email him.
Sign up for Free Training Tips
How To Improve Your Pull-ups - Click Here
Get the best in CrossFit performance gear at the CrossFit Store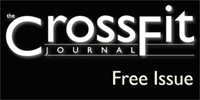 "We market the products/services shown on
this website as affiliates of those companies."